Commitment for the hungaricum
2009.03.04.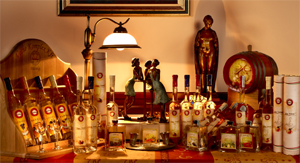 The Dunai Hajós product line is expanded by new members

Vecse Komplex Kft. was founded in summer of 2007, that justifies with the excellent quality of safekeeping of the Hungarian pálinka – as a hungaricum – its commitment of protection. The Dunai Hajós product line manufactured in this factory expands continuously, this year already sort of 15 – between them quince and cherry which won on HunDeszt competition a silver medal - belong to the family.
István Banyári, Managing Director of the firm informed our website about the the distillery firm's future plans:
"The last year was our firm's first full year, we tried to gain a foothold on the domestic market and we ended an effective year as a start. Our originally drink series grew up to this day from 5 simple and 3 "on fruit bed" pálinkas to 15 differenct drinks. In the this year's plans is the additional extension of the product line some ancient kinds of pálinka, that will not be plain, because the market is full, and the weather influences our work significantly. Recently we opened a speciality shop in Dunaújváros and we plan to open a similar shop in Budapest. We would like to expand our shop with a restaurant-like tasting room, and we would increase the hall because fortunately we outgrew the present place already. We may almost lean on a union source because the pálinka is hungaricum altough, but it is not treated emphasized according to this regarding the investment.
I like living on Dunavecse, because it is a calm small town with good infrastructure, where everybody knows the other one. My opinion is, that in 10 years – thanks to the bridge - the town will go through serious development.

Source: Portaegyesulet.hu